FEBRUARY 2016

SJR State named as one of the top 150 in the country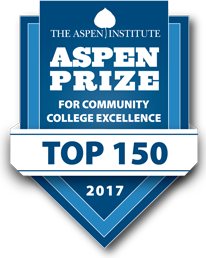 Highlighting the critical importance of improving student success in America's community colleges, the Aspen Institute College Excellence Program recently named St. Johns River State College as one of the nation's top 150 community colleges eligible to compete for the 2017 Aspen Prize for Community College Excellence and $1 million in prize funds, as well as Siemens Technical Scholars Program student scholarships.
The Aspen Prize, awarded every two years, is the nation's signature recognition of high achievement and performance among America's community colleges and recognizes institutions for exceptional student outcomes in four areas: student learning, certificate and degree completion, employment and earnings, and access and success for minority and low-income students.  Nearly half of America's college students attend community college, with more than seven million students – youth and adult learners – working toward certificates and degrees in these institutions across the country.

SJR State President Joe Pickens, J.D., said the College is honored to be recognized for its consistent commitment to student success. "Our dedicated administrators, faculty and staff strive daily to provide students with the essential pathways to success," he said. Of the 150 colleges named, Pickens said that SJR State is among the smaller colleges, emphasizing that when it comes to performance, "A college doesn't necessarily have to be bigger to be better. We have proven that our size does not limit us in our mission to achieve academic excellence and make a difference in the communities we serve," he said.
SJR State and 149 other community and state colleges were selected from a national pool of over 1,000 public two-year colleges using publicly available data regarding student outcomes in three areas:
Performance (retention, graduation rates including transfers, and degrees and certificates per 100 full-time equivalent students)
Improvement (awarded for steady improvement in each performance metric over time)
Equity (evidence of strong completion outcomes for minority and low-income students)
SJR State Board Chairwoman Mary Ellen Hancock congratulated the College on it's third time as an Aspen Award contender since the award's debut in 2010.  "It is truly gratifying to be recognized nationally for our local endeavors in this vital purpose we all share to provide effective learning environments that ultimately lead to a productive and prosperous workforce."
SJR State has been invited to submit an application to the Aspen Prize for Community College Excellence containing detailed data on degree and certificate completion (including progress and transfer rates), labor market outcomes (employment and earnings), and student learning outcomes.  Ten finalists will be named in the fall of 2016. The Aspen Institute will then conduct site visits to each of the finalists and collect additional quantitative data. A distinguished prize jury will select a grand prize winner and a few finalists with distinction in early 2017.
Scholarship Opportunities
For the first time, the 150 Prize-eligible institutions are also invited to nominate exceptional students enrolled in their best middle-skill STEM programs for scholarships. Up to 50 Siemens Technical Scholars will be selected from programs that provide outstanding preparation for high-demand jobs in manufacturing, energy, health care, and information technology. A partnership between the Siemens Foundation and the Aspen Institute, the Siemens Technical Scholars Program intends to help our nation's community colleges and their business partners bridge the gap between projected shortages of skilled workers and the millions of high-demand jobs in these STEM industries. Scholarship winners and the programs that deliver rigorous training, enabling their success, will be announced in the fall of 2016. For more information and to view video profiles of 2015 Siemens Technical Scholars, go to: http://as.pn/stscholars.
The Aspen Prize is funded by the Joyce Foundation, the Siemens Foundation, and the Kresge Foundation. For more information about the Aspen Prize, visit www.aspenprize.org.