Chris Lewis' To-Do List

Graduate with a degree in computer networking – CHECK! Earn industry certifications – CHECK! Land dream job right out of college – CHECK! Recent graduate Chris Lewis is already demonstrating what Professor Stan Greenawalt describes as "unlimited potential" after completing the Computer Networking A.S. degree program at SJR State. Chris is now working for the Clay County Division of Management Information Systems as an Information Communications Technology Technician. According to Professor Greenawalt and Chris, it is the pinnacle of the dream networking jobs. "I would say my job is ideal as a new college graduate. I've been approached with multiple situations that really make me think outside the box and apply all my training in different ways," Chris said. "I have configured multiple routers and switches and have already been exposed to additional types of technology."
MAY 2014
Diane Levis - Internship preps student for life after a layoff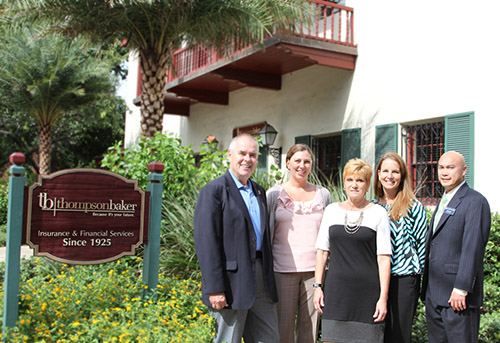 After working for more than 35 years in the retail management business, Diane Levis was faced with the challenge of finding a new career. Not to be deterred, she began envisioning how she could take her knack for customer service to the next level. Thanks to WorkSource and St. Johns River State College, Levis accepted the challenge and found that there is life after a layoff.
Levis' decision to reinvent herself with a fresh set of skills was paired with a need for work-life balance and job satisfaction. Now in her final semester at SJR State, Levis said her new path to success began with earning an Associate in Science degree in Business Administration and has come into fruition with an internship in the insurance industry.
Considered a capstone course, the internship with ThompsonBaker Insurance Agency is a first for the degree program's insurance specialization. The College partnered with the St. Augustine agency to provide students with the relevant knowledge and experience that only an internship can provide.
Agency chairman Greg Baker initially partnered with the College in 2008 with a scholarship for the series of courses designed to prepare students for employment in the insurance industry. According to Baker, students possessing customer service and account management skills could help meet the growing need for technically trained, qualified insurance associates for independent insurance agencies in St. Johns County as well as throughout the state.
Baker said he was glad to partner in the program's first internship. "The capstone course is a bridge between academics and the business world, giving students like Diane an opportunity to apply her knowledge and gain real world experience," he said.
Levis describes her internship as a glimpse into the details of the industry. While her courses served as an overview, working beside her agency mentor Christy Lawrenson has shown Levis the number of clients assisted during the day as well as the way many tasks are completed. "Being on the job is more involved than what you would think. It's high pressure," Levis said. "You need to have all of your I's dotted and your T's crossed." Not only does the experience provide an opportunity for Levis to establish important connections in the field, she feels the experience will also give her a competitive edge in the job market.
With state law requiring persons working in an insurance office who talk to clients about policies, collect money for premium payments or take information involved in the transaction of insurance to be licensed, there is generally a good job market for insurance agents, said SJR State Vice President for Workforce Development Anna Lebesch, Ed.D. The program specialization at SJR State allows students with a two or four-year degree who obtain the nine credit hours of the approved insurance specialization to qualify for a 4-40 Customer Service Representative License without further testing.
For more information regarding the courses and admission requirements, contact Joel Abo, SJR State's director of business education, at (386) 312-4063.
PHOTO CAPTION: Members of the ThompsonBaker Insurance Agency pose with SJR State's first insurance specialization intern, Diane Levis. From left: ThompsonBaker Agency Chairman, Greg Baker, agent mentor Christy Lawrenson, Levis, operations manager and SJR State alumnae Vikki Sims and SJR State's director of business education, Joel Abo.
OCTOBER 2013
Morgan Reynolds - Radiologic Technician embraces Golden Rule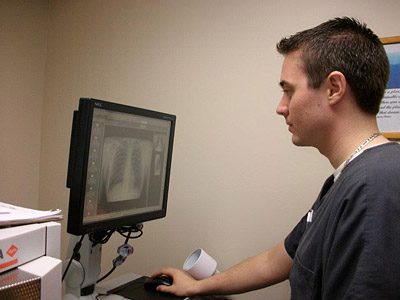 For SJR State graduate Morgan Reynolds, the Radiologic Technology program was an ideal start to his long-term goal of becoming a doctor. The program gave Morgan a solid academic foundation in the health care industry while preparing him for employment. "While continuing my education is very important to me, I did not want to accrue a lot of debt," Morgan said. "I can now work while I put myself through medical school."
For Morgan, earning his Associate in Science degree and becoming a technician provided him with vital, personal patient contact. "It is an essential stepping stone in my path toward becoming a doctor," Morgan said. "The medical knowledge I gained from the program will also aid me throughout any medical career, without a doubt."
"It's very important to me to experience patient contact. I've learned how to sympathize with every kind of patient, ranging from small children to the elderly," he said.
"I specifically remember one elderly patient who couldn't do much on her own and required a lot of assistance. The doctor had ordered a lot of radiographs, so the procedure was going to take a while. We began to talk while I was taking her X-rays. She told me all about her grandchildren and great grandchildren and how she was so proud of them. I could relate to her because my grandparents are very proud of me and my accomplishments. I also told her about my future plans of becoming a doctor," Morgan recalled.
The patient then told him to stop the procedure. As he did, she grabbed his hand, looked him straight in the eyes said, "'You will make a great doctor one day, Morgan. We need more doctors that treat patients the way you have treated me. Even though I am sick and don't feel well, you have made my entire day by just talking to me.'"
Morgan said her comment touched him beyond words. "I make sure I treat every patient the way that I would want to be treated," he said.
As part of the program, the Healthcare Education Alliance (HEAL) grant project also provided Morgan with workshops and training on how to improve his study skills and prepare for his job search.
Morgan said the services were vital to his success in finding employment as a radiologic technologist. "The instructors taught me how to study for the ARRT exam and how to apply for a job," Morgan said. "I think the best service that was offered was the mock interview. Having never officially interviewed for a professional position, I had no idea what to expect. They walked me through how an interview works, gave me pointers on dressing and presentation, and even helped me write my resume."
Morgan said the grants and financial assistance he received was very helpful as well. "The HEAL office wants to see you succeed in the program, and they will help in any way possible," he said.
After graduation, Morgan began working at the Medical Express of Palatka. "It allows me to perform additional medical-related tasks, such as taking vitals, assisting the doctor in treating wounds and patient intake," he said. "Although the program is primarily focused on radiology, I feel prepared to take on a wide range of medical duties."
MARCH 2013
Putting the "care" in respiratory care

Shel is fulfilling her dream of helping others. While earlier careers in nutrition and fitness may have satisfied previous efforts to aid others in the fields of physical wellness, Shel said knew she could offer more. Returning to college was the perfect remedy for a new career in the health care industry.
"I've always liked working with people and have always been interested in the medical field," Shel said, yet she knew she needed specialized training in a career that didn't require more years than she could reasonably commit. Like many non-traditional students, she had additional responsibilities.
Shel discovered that SJR State's Associate in Science degree program in respiratory care was a good fit for her lifestyle. Dedicating two years was a realistic goal she could reach and still raise a family.
Now working as a respiratory therapist at Orange Park Medical Center, Shel's job involves helping others when they are often at their highest level of need. As part of the rapid response team, her duties include inserting arterial lines, intubating, managing life support ventilators and pulmonary function testing, to name a few.
While Shel's days are filled with treating patients with injuries and diseases in the trauma center, a fast-paced, challenging environment she thrives on, she says her job requires more than saving lives, it requires showing compassion. "Caring is critical," she said. "Every day, I see so many sick people. Showing them kindness is another way we make them feel better." Shel said caring extends beyond physical treatments. It involves comforting the patient.
Her call to make a difference in the world is met by making a difference in her patient's world. "That just makes my day."
Shel credits the entire staff at OPMC for contributing to the overall quality care. "I think we give great patient care. It's a great environment to work in."
Shel said she feels fortunate to have received her training at SJR State, and her 4.0 GPA is proof. She credits her instructors for teaching not only the clinical side of respiratory care, but for putting patient care at the top of their list. "They made it a point to always treat people as you would want to be treated," Shel said. "I always respected them for that and remember their voice inside my head each day."
For Shel, there are two components to becoming a good therapist – mastering the academics and mastering the clinicals. "I really feel I have become a very strong therapist because the instructors pushed us to learn the material and the sciences behind the program."
"It's more than just passing some test," she said. "I tried to really understand it, and I think it's paid off. I really feel the benefit comes to the patient."
JANUARY 2013
Dreaming new dreams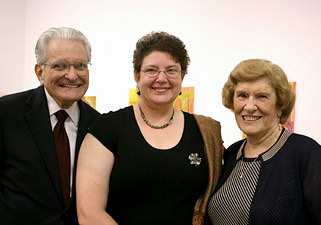 While the majority of students attending SJR State are considered "traditional students" in that they began college no later than two years after graduating high school, approximately 35% of college students are considered non-traditional. Their reasons for postponing their college education or returning to college vary, and their stories are often compelling.
For SJR State student Correne Hosein, starting life over hasn't been easy. In fact, many non-traditional students like Hosein will tell you that starting over can be difficult and daunting at times; however, Hosein is proof that it can be done, and impressively so.
Quoting former Secretary of State Condoleezza Rice, Hosein will tell you, "Life is full of surprises and serendipity. Being open to unexpected turns in the road is an important part of success."
In 2008, Hosein's own road took a drastic and unexpected turn when she lost both her husband and job. But with the encouragement and support of family and friends, and the expert guidance from SJR State professors and staff, she has been able to restart her life, set new goals and have new dreams.
At the age of 51, Hosein's determination and hard work will pay off this spring when she graduates from St. Johns River State College with two degrees - her Associate in Arts degree and an Associate in Science degree in Chemical Technology.
In addition to her busy academic life, Hosein is also a board member for the Arts Council of Greater Palatka, a volunteer marine turtle nest monitor at Crescent Beach, a Phi Theta Kappa officer and a chemistry laboratory assistant.
While her positive outlook and determination have greatly contributed to her success, she said that finding the financial resources to attend college was a major obstacle until she was awarded a scholarship. According to Hosein, the Dan and Katie Martinez Endowed Scholarship has provided a means to her dreams as she completes her degrees.
Hosein plans to transfer to a university, continue her education by earning a Bachelor's degree in Medical Technology. "My goal is to once again be a productive, taxpaying member of society, working in either a hospital lab or perhaps, even better, a crime lab," she said. "Thanks to scholarships, it is possible for someone like me to dream new dreams and dare to hope for a better tomorrow."
Hosein (center) is pictured with Dan and Katie Martinez.
NOVEMBER 2012
So Others May Live

At an early age, Jeremy Watkins realized the importance of an education. As a lifeguard on the beaches in St. Johns County, the then 16-year-old quickly gained an appreciation for knowledge and the results it could bring.
As an adult, Watkins earned his EMT certification and began working as a year-round lifeguard. Although he served a stint in the United States Coast Guard, his plans always included returning to school and returning to the field of marine rescue as a professional lifeguard.
Watkins said enrolling in SJR State's new Emergency Medical Technician program was his first step in becoming recertified and returning to the beaches as a lifeguard. During his rigorous training, including first aid and cardiopulmonary resuscitation, Watkins said his field internships were essential in demonstrating how no two calls are alike. Medical calls always have the potential to develop into an unexpected situation. "Sometimes a call turns out differently than what you may expect and can escalate into a situation where there are multiple conditions to address. You have to react in a smart and safe manner for yourself and the patient," Watkins said. "Learning how to react quickly and safely is something that will relate to my field in marine rescue."
As part of the program, the Healthcare Education Alliance (HEAL) grant project also provided Watkins with workshops and training on how to improve his study skills and resume writing. Watkins said learning how to fine-tune a resume toward a specific job or field was very helpful, as he recently applied those skills toward his current job. HEAL is a strategic partnership to enhance opportunities for workers to engage in comprehensive training in healthcare that will lead to improved employment options.
Today, as a lifeguard in Hallandale Beach and as the president of the St. Augustine Lifesaving Association, Watkins often uses the United States Coast Guard rescue swimmer's motto, "So others may live." He says it is a universal reminder. "It's a symbol of why you train and do what you do. I use it to represent my time in the service and to show why I train and hold the job and responsibilities that I have."
Watkins remains enrolled at St. Johns River State College, working online to finish two degrees – an associate in arts (transfer) degree and an associate in science degree in Emergency Medical Services. He ultimately hopes to earn a bachelor's degree and continue a career devoted to saving lives, with an expanded role in leadership.
OCTOBER 2012
Making history at SJR State

Meet Jason Turner. He made SJR State history this year during the annual commencement ceremony. Turner was the first student to be awarded a baccalaureate degree at St. Johns River State College. SJR State introduced two bachelor's degree programs in 2011, one in early childhood education and one in organizational management.
Turner, a 22-year-old Putnam County resident, earned a bachelor's degree in organizational management. Turner described the experience of being the College's first bachelor's degree recipient with a huge sigh and one word – "Amazing," he said.
While reflecting on his recent final exam and portfolio presentation, Turner said he was overwhelmed with excitement. "I felt really good about what I accomplished," he said. Turner calls himself a people person and hopes to establish a career locally where he can utilize his education to enrich his community and assist and inspire other people to excel.
JULY 2012
Anna Morgan - youngest student to receive the Valedictorian Award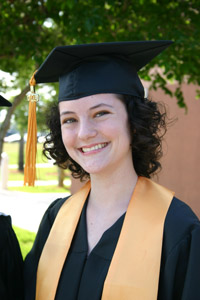 At the age of 18, Anna Morgan may be the youngest student ever to receive the Valedictorian Award. During the annual graduation ceremony in May, the Clay County resident was presented with the award based on her grade point average, difficulty of courses and involvement in extracurricular activities. Morgan, a home-schooled dually enrolled student, graduated summa cum laude and is also a National Merit Scholar of Commendation as well as a member of the Phi Theta Kappa Academic Honors Society.
She is active in her community as a swimming instructor at the Winston YMCA and as a public library volunteer and community activist campaigning to protect funding for libraries. Morgan will attend the University of Florida in the fall of 2012 at the Residential Honors College, where she will pursue her bachelor's degree and ultimately a graduate degree in research.
Morgan's family history extends to the beginning of the College's establishment. Her grandmother, Frances Morgan, as a member of the Clay County School Board, aided in the foundation of St. Johns River Junior College in 1957. Anna's mother, Jeannine, is an English professor at SJR State. Her father, Peter, is a counselor.
JUNE 2012
PTK President advises, "College is what you make it"

As a first generation college student, Lindsey Potter said she entered the world of higher education with hypothetical blinders on, unaware of SJR State's student life opportunities and the possibilities they could offer.
At first, her collegiate days were void of student interaction as well as campus and club activities. Potter said she would arrive on campus, attend class, and then leave. It wasn't until she stepped outside of her comfort zone and joined her first campus organization that she began to understand the power of fellowship and that her college experience would ultimately reflect the amount of effort she invested in it. "It's all about enrichment, growth and living outside your normal boundaries," she said. "Your college experience is what you make it."
"I started out slowly, but am glad to say that I'm finishing out my first degree with fervor," Potter said. "Getting involved makes such a difference. I can't stress it enough. Communication is the catalyst."
For Potter, becoming active on campus has led to some incredible opportunities, including scholarships, job offers, awards and recognition, lasting friendships, conferences in both Seattle and Nashville, networking, and finally, "an immense and intangible personal growth and discovery that I will carry with me for a lifetime," she said.
Potter completes her last semester at SJR State this summer and concludes her role as the President of the Phi Theta Kappa Honor Society. She advises all students to become active on campus and with their peers; however, her enthusiasm for sharing advice doesn't end here. She has a passion for life and a passion to share her successes, so much so that she created her own Web page and blog to help others grow as students.
Her Web page, "Uncovering Discovery" ( http://uncoveringdiscoveryblog.com/) includes topics such as:
Five Things I Learned as President of a School Club,
30 Things I Wish I Knew Before Starting College,
How to Finish Your Semester with a Bang,
How to Introduce Yourself to Your Professor,
Getting Enough Sleep, and
Taking Advantage of Free Tutoring.
Potter was also featured in the book "Community College Success - How to Finish with Friends, Scholarships, Internships, and the Career of Your Dreams" by Isa Adney. (http://www.communitycollegesuccess.com/p/get-book.html)
Potter describes her next project as "an educational yet fun international project that doubles as a unique first generation college student DIY success story."
This fall, she will travel to Europe with a videographer and record her journeys and experiences. She plans on producing enough material during her trip to write a book on student study and ventures abroad. "I want to showcase the unique differences of European transportation, culture, people and scenery by delivering a professionally compiled Web series of each country," she said. "This way, people can see which country they favor most and travel there themselves for their very own 'Uncovering Discovery' project."
Upon her return home, she plans to continue her education with interests in psychology, cognitive neuroscience, veterinary science and German as a language. Her ultimate collegiate destination is the University of California, Berkeley or UCLA.
Potter's last words of advice - "Join a club, hold a position within that club that helps you gain leadership skills, become a student tutor, go to office hours, and THRIVE!" she said. "Becoming active on campus and with your peers really shapes you and can start an ongoing cycle of positivity and productivity. Once that passion forms, you build a fire within yourself that is almost impossible for anyone to take away."
MAY 2012
Gallamore enrolled in SJR State's bachelor's degree program in Early Childhood Education

Originally from Wakulla, FL, Kaitlin Gallamore first arrived in Palatka in 2007 to become a catcher for the St. Johns River State College Viking softball team. After earning her Associate in Arts (transfer) degree, she set her sights on her next game plan – earning a bachelor's degree and sharing her enthusiasm for learning with students in her very own classroom.
"We need teachers who care. It's important to have a connection with students and to teach them that an education is important," she said. "It's just as important to make that connection early. Teaching kindergarten is an opportunity to not only watch children grow, but grow up."
Gallamore said she chose to pursue a career in education so she could make a difference in young people's lives. She chose SJR State for the difference the program could make in hers.
Gallamore enrolled in SJR State's bachelor's degree program in Early Childhood Education, a program designed to help busy, working students make their educational and career goals attainable. The program is offered in a blended format of on-campus and online courses - which allows for greater accessibility and flexibility.
Gallamore said that while she likes the convenience of online classes, she also benefits from meeting with faculty once a week, faculty she refers to as mentors. "It's nice to meet and have that connection and to talk with the instructors," Gallamore said. "They take the time to get to know each student and not only teach us the educational aspect of our program, but they also discuss the more interpersonal aspects and life experiences that we will deal with in the classroom, and they do this from their previous experiences as teachers and principals."
Graduates of the program will be eligible to apply for a Florida Professional Teaching Certificate in PreKindergarten/Primary Education (Age 3 - grade 3). For more information, visit the Web site at: SJRstate.edu/bachelors or call (386) 312-4242.
JANUARY 2012
"Education is the key," says Lieutenant Jonathan Lamm

"Education is the key," says Lieutenant Jonathan Lamm. The 39-year-old husband and father of two was among the first to enroll in SJR State's baccalaureate degree program in organizational management.
Lamm, a paramedic and firefighter for the Clay County Fire and Rescue, chose to continue his education with SJR State in one of the program's three specialization tracks - Public Services Administration. "I'm getting ahead of the game," Lamm said.
After earning Associate in Science degrees in Fire Science Technology and Emergency Medical Services, Lamm said earning a four-year degree was the next logical step. "My goal is to some day become a chief officer, and the requirements for future promotions require additional education," he said.
"Once you start moving up to larger leadership positions, you really need an education to back the position you want. Employers want you to have an educational background," Lamm said.
Lamm said he gladly chose to continue his education locally, and the College's convenient location was also a factor for the Green Cove Springs resident.
"I enjoyed the environment of St. Johns so much that I wanted to hold out and earn my next degree from them," Lamm said. "The Orange Park campus has been great, and the faculty and staff have always been phenomenal."
The Bachelor of Applied Science degree in Organizational Management is designed to provide the skills and knowledge necessary to enter the workforce in a mid-level management position. Students can prepare for careers within the public, private and non-profit sectors. Students can attend full time or part time.
Specializations are available in: Supervision and Management; Health Care Administration and Public Services administration. For admission requirements or more information, visit the Web site at: SJRstate.edu/bachelors or call (386) 312-4183.
OCTOBER 2011
For Michael Pawlukiewicz, learning is a life-long process

While earning an education is usually viewed as the necessary path for career and professional development, for one St. Johns River State College student, it's also an essential means of personal growth, achievement and enrichment.
For Michael Pawlukiewicz, learning is a life-long process. "My parents embedded in me early on the importance of an education," he said. "You are limited when you are not educated, and I never wanted to be limited. I've always wanted to have the educational factor."
The 29-year-old's rigorous schedule supports his philosophy. Pawlukiewicz graduated in 2009 from SJR State's radiologic technology program and is now employed full time at Flagler Hospital as a radiologic technician. He spends his weekends tending to patients and his week days earning his bachelor's degree in Organizational Management from SJR State. The Health Care Administration track is the perfect fit for his schedule and needs.
The degree program allows Pawlukiewicz to progress in the health care career at his pace. He said that while he enjoys taking classes online, he enjoys the interaction of the hybrid classes more.
"I enjoy meeting every other week and actually talking with the students and professors," Pawlukiewicz said. "I enjoy getting that extra incentive and sharing experiences in addition to sharing messages on a message board."
After earning his bachelor's degree, he plans to continue his education with a master's degree in public administration.
The Bachelor of Applied Science degree in Organizational Management is designed to provide the skills and knowledge necessary to enter the workforce in a mid-level management position. Students can prepare for careers within the public, private and non-profit sectors. Students can attend full time or part time.
Specializations are available in: Supervision and Management; Health Care Administration and Public Services Administration. For admission requirements or more information, visit the Web site at: SJRstate.edu/bachelors or call (386) 312-4183.
OCTOBER 2011
Helping those in need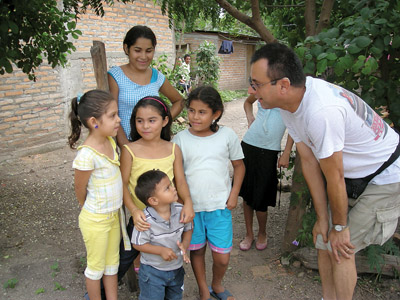 SJR State nursing graduate Rafael Ramos, RN, EMT-P, said it is often difficult for an individual to explain the paths one chooses to take, but has come to terms that it is a calling. "Ever since I was a child, I always had a desire to help others," Rafael said. "I have been blessed with a skill that allows me to help those in need."
The Orange Park resident's latest calling led him and a team of local doctors and volunteers to a remote village in Nicaragua last summer. "I truly believe that every health care worker should be given an opportunity to serve those who are in need," Rafael said. "This service will reinforce the reason why one chooses the nursing profession or any other health care profession and allows him to understand how other cultures view Americans."
Combining his previous skills as a paramedic with his new nursing skills, Rafael, along with the medical mission team, helped treat approximately 140 patients per day for various tropical diseases during his week-long visit. "Most of the patients were treated for malnutrition, worms and parasites," he said. "Many walked three hours to see us."
The 2008 graduate is currently teaching a certified nursing assistant program at the Orange Park High School Academy of Health Science as well as working as an agency nurse at the Florida Department of Corrections Reception and Medical Center (RMC) in Lake Butler. He plans to return to Nicaragua this summer.
During the mission trip, the 54-year-old said he learned that his name, Rafael, is derived from the Hebrew word meaning "God has healed."
"Who knew that my mother had given me a destiny of helping others?" he said.
Hard work pays off for student athlete

Kim Traxler discovered her love for softball at the age of eight. Although she also excelled in volleyball and soccer in high school, softball was always her favorite sport. When it came time to select a college, she chose to become a Lady Viking. "I wanted to begin at home and then move on to somewhere else," she said.
Initially wanting to improve the season record for her hometown team, Kim confesses she has since learned that a winning season isn't everything. The lasting friendships she built with her teammates have proven to be far more valuable. Kim admits that the Lady Vikings are like a sisterhood, and her fondest memories of college thus far are of time spent travelling as a team. Kim adds that winning and losing are all a process of change, and the athletes who choose to play locally are a part of that process. "With a good school and a good program in your hometown, why go anywhere else?" she said.
Having begun her college career in the 11th grade as a dual enrollment student on the Palatka campus, Kim quickly learned the importance of studying and time management, especially for students involved in sports. By the time she received her high school diploma, Kim had accumulated nearly 30 hours toward her Associate in Arts degree. Interested in behavioral science, Kim said she has taken all but one of the psychology courses SJR State offers and received her Associate in Arts degree last spring.
Kim recently signed a National Letter of Intent to play softball for Palm Beach Atlantic University, a school she'd previously researched as a high school senior. "They weren't interested in me then," she said, adding that SJR State, and in particular Coach Rebecca Bennett, helped her achieve her goal of signing with the university. Kim said that Coach Bennett makes phone calls, sends e-mails and uses every available resource to help her players advance to the next level.
Kimberly was named the 2010 female Student Athlete of the Year. The center fielder also played for Interlachen High School. Traxler lead the Vikings with a .331 batting average and 25 runs. She was 18 for 21 in stolen bases. Traxler's fielding percentage was .957. Kimberly said the recognition was rewarding. "Most people don't realize the hard work that goes into being a student and an athlete," she said. "As far as grades and time management, there's a lot of hard work, dedication and self-discipline that goes into it. It's nice to have it pay off like this."
Kim will leave for Palm Beach in August to complete her bachelor's degree in psychology. She plans to pursue a career in counseling, possibly combining her love of sports with her interest in human behavior to become a sports psychologist. Overall, Kim said she is glad she chose to attend SJR State first and feels prepared, academically and athletically, for the next level.
APRIL 2010
Home-schooled student enjoys leadership opportunities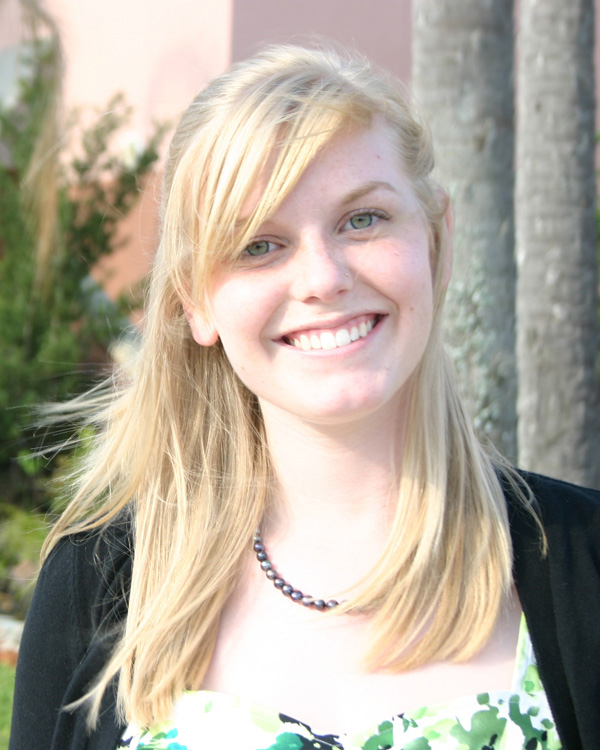 Madeline McGuigan says that one of the biggest misconceptions on being home-schooled is that students are more likely to miss out on opportunities that can prepare them for success. "Not so," she said, and her academic, civic and social life is proof. As an active church and community member, Madeline took no time fitting in at college. The ambitious English major found her niche as the student government president and as a student ambassador, Phi Theta Kappa officer and nature club member. "I loved my student leadership roles. There's a place for everyone at SJR State."
While she admits that her first day as a college student was a little overwhelming, SJR State's intimate atmosphere and smaller class sizes were reassuring. "Everyone was so friendly and welcoming," she said. "It's definitely more one-on-one. You really get to know your teachers."
SJR State student discovers true meaning of opportunity

Like many students, Emmanuel Ercole grew up dreaming of college and the quality of life an education can bring to not only the aspiring professional, but to the community he serves. "College shows you there are other people doing great things for great causes," he said.
At the age of 12, Emmanuel's dream would come within reach when his family moved from Argentina to the United States. "For me, America meant that I would have a chance to earn a college degree and actually use it," he said. "With the opportunities presented by a new country and the support from new neighbors and friends, I found the means to pursue my dream."
With the influence of accelerated programs at St. Augustine High School, Emmanuel discovered he had a passion for biomedical engineering - the science of combining biology and medicine with engineering practices to solve medical problems. He had discovered not only an exciting career to pursue, but also a powerful way to give back to his new country and community. "The whole idea that someone could invent a solution to help a person walk again is incredible," he said. "I want to contribute to technology breakthroughs such as that."
Emmanuel's plan to earn the complex science degree first led him to St. Johns River State College where he earned his Associate in Arts degree (transfer degree). He said he owes much of his academic success to his instructors at SJR State. "After taking classes such as organic chemistry, physics with calculus and differential equations, I was ready for university-level courses," he said. "The professors and counselors at SJR State were essential in helping me reach my goals."
Emmanuel's experiences outside the classroom were equally successful. He found that his local community college offered a student life rich with social and civic opportunities. Before graduating from SJR State, Emmanuel served as a student ambassador, the student government president, and the vice president for the Phi Theta Kappa honor society.
"In the end, I discovered a school system that recognizes real learning is passionate learning," he said. "I discovered a curriculum that values questions above answers, individuality above conformity and excellence above standardized performance."
Today, Emmanuel is continuing his dream at the University of Florida.
Technician Jane Boles radiates compassion and independence

At the age of 45, Jane Boles was given the opportunity to "rethink" her life. The mother of four suddenly found herself at a crossroad. "I was happy being a stay-at-home mom, but when my marriage ended, my financial situation changed," she said. Although Jane had majored in economics some 20 years earlier, she decided it was the perfect opportunity to pursue the career she had initially desired Ð a career in health care. "I wanted to take care of people," she said.
In 2005, Jane enrolled in the radiologic technology program at St. Johns River State College, a program she considered to be a perfect match for her professionally and personally. "In a way, being a parent is a prelude to the medical profession," she joked. However, on a more serious note, Jane added that the obstacles she endured when her daughter was diagnosed with cancer gave her a better perspective on the demands of health care workers. "It was a special calling to a profession that demands respect and empathy," Jane said. "Thanks to my experiences and training, my patient care skills are a strength I can bring to the table."
Jane also said that having a college close to home was the key to turning her dream of being financially independent and helping others into a reality. "As a working mom, I needed quality and convenience. St. Johns provided both," she said. "As a mom, you have to fill in every second. There was no time in my schedule to commute."
After completing the associate in science degree program, Jane said she felt prepared to pursue her certification and a new career as a technician at St. Augustine Imaging. "I felt prepared for the real world of radiology," she said. "In addition to the training and experienced faculty, the College arranged excellent clinical locations."
With a healthy family and a new degree, new career and new husband, Jane said life has settled down nicely, "I am enjoying the moment."
SJR State dancer begins 'magical' career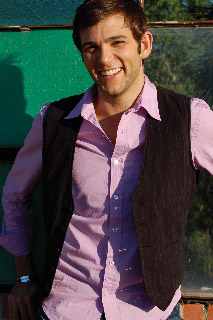 Chally Rowjohn is one of those rare individuals who, by the age of five, knew exactly what he wanted to do with his life and pursued it. His dream of becoming a dancer, along with a degree from Florida School of the Arts, has led him to what many artists consider to be the ultimate dream destination - Walt Disney World.
After being mesmerized by parade performers during his first visit to the Magic Kingdom, Chally said he knew he wanted a career in the entertainment business. "I knew I wanted to dance, and I wanted to dance at Disney," he said. Fourteen years later, Chally is performing in his first professional dance show in "High School Musical 3" at Disney's Hollywood Studios.
Chally recently graduated from the St. Johns River State College arts school with a degree in dance entertainment and credits his instructors for preparing him for success. From choreography to costume design, from voice lessons to the meticulous details of technical theater, Chally said his education at FloArts was well-rounded. "All of my instructors helped me make it," he said. "FloArts brought out the best of my abilities and gave me a strong foundation. It not only prepared me for the audition process, but also matured me for the rehearsal process," he said. "I learned to be adaptive. I feel like I'm more of an asset now because I can pick up choreography quicker, and I do realize details." The Melbourne native was also named performing arts student of the year.
Chally said the first week of rehearsal at Disney's studios was surreal. "When they turned the music on, it all hit," he said. "I couldn't believe it was actually happening. I was in the type of show I've always aspired to be in, and I was with all the other people there who were sharing the same dream."
While his future plans include performing on cruise ships, national musical tours and Broadway, Chally realizes that a dancer's career can often be short-lived and plans to also continue his education. "Knowledge is power, but the timing must be right," he said. "I would love to come full circle with Disney and eventually be on the directing, producing and choreographing side. I love teaching and giving back to the community. It is my duty to do so."
SJR State EPI program illustrates one Ponte Vedra teacher's change of art

Being the oldest of five children, Katie Corrigan was often told by her family that she had what it takes to become a teacher; however, it wasn't until the 38-year-old advertising professional became a mother that she learned she could combine her art degree and her nurturing disposition into a teaching career - all with the help of the St. Johns River State College Educator Preparation Institute.
Now well into her first year of teaching art at Palmer Catholic Academy, Corrigan said it has been a worthwhile career change. "It's meaningful and rewarding," Corrigan said. "As a teacher, my day begins with smiling faces ready to learn, and when it ends, I feel like I've made a difference."
Corrigan recently completed the EPI program designed to streamline the process for obtaining a Florida Professional Teaching Certificate and turned her bachelor's degree in studio art into a teaching career. The Jacksonville Beach resident said the program took eleven months to complete and provided a class schedule that was a good fit for her busy life. "I don't know how I would have otherwise earned my certification. I didn't want to worry about what to do about daycare," Corrigan said. "I could take the online classes at 3 a.m. if I needed to."
"The program gives you credit as a professional when you enter," Corrigan said. "Everyone taking the program and teaching the program is very professional and understands the seriousness behind it."
Corrigan said the academy's principal, Linda Earp, initially told her about the EPI program after she began teaching a fifth grade class two years ago on a temporary certification. Corrigan said she was thrilled when the position to teach art to grades kindergarten through eighth became available during the third and final year of her temporary certificate.
Earp said Corrigan's positive interaction with the students, background in art, and having her temporary certification led to her current position. Earp said Corrigan's talents go beyond her artistic abilities. "She thinks outside the box, and every one of her projects is hands-on," Earp said. "She gives every child an equal chance to fit in and express their creative talents, regardless of artistic ability. She gives everyone the chance to succeed."
SJR State's Alternative Teacher Certification Program, which is part of the EPI program, entails completing seven courses, passing the three parts of the Florida Teacher Certification Exam and submitting the required paperwork to the Florida Department of Education. Participants will be awarded a Florida Professional Teaching Certificate upon completion of the program. No other coursework is required, and the program can be completed in less than a year.
SJR State offers the EPI courses online or at SJR State's Palatka, Orange Park and St. Augustine campuses. In order to participate in the EPI program, applicants must have earned a bachelor's degree from a regionally accredited college or university and possess the disposition suitable for becoming a teacher.
SJR State will hold an EPI informational orientation on February 13 from 5:30-6:30 p.m. on the St. Augustine Campus. The session is free and open to the public. For more information, please call (386) 312-4242 or e-mail opencampus@sjrstate.edu
Non-traditional student, Josiah Flint redesigns career choice

For 14 years, Josiah Flint was content with his job as a pressman, printing various publications for a local organization. However, as trends in communication began to evolve into a cleaner, greener, electronic format, Josiah found out the hard way that technology was here to stay. At the age of 46, his career in printing became obsolete.
While he was fortunate enough to transfer into an entry-level surveying position within the same company, it became evident that without technical training, the opportunity to advance was unlikely. "At the time, I didn't know what my long-term plan was until someone in the department announced he was retiring," Josiah said. "I looked at the requirements for his job and realized I needed training."
Josiah said he began searching for the technology and training that could prepare him for a position as a computer drafting technician. He needed training in AutoCAD, and St. Johns River State College fulfilled that need. "The College had just started the drafting program, so I enrolled," he said, now one year into the associate in science degree in architectural drafting and construction technology.
Josiah also had another need - a need many non-traditional students experience. He needed to earn an education in addition to his other responsibilities and commitments. While Josiah admits that returning to college after 26 years has been challenging, SJR State has given him the training, the flexibility of online and evening courses and the faculty support he needed to succeed. "Without my training at SJR State, I wouldn't have been able to move into the position of drafting technician," he said. "It's not a good feeling when you are laid off, but it's worked out well in so many ways."
While Josiah will complete his college credit certificate in drafting this summer - an intermediate step toward the degree - he doesn't plan on stopping there. "I won't make the same mistake I made when I was younger," he said. "I want to continue my education and work toward my bachelor's degree in business."
Dual diplomas for dual enrollment student Emily Irizarry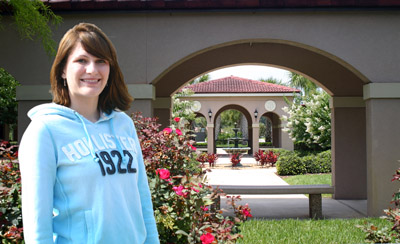 St. Augustine High School senior Emily Irizarry said that her life, thus far, has been influenced by passion and impact. So what does a teenager know about passion and impact? This spring, the dually-enrolled student will graduate with not only a high school diploma, but with a degree from St. Johns River State College. As for the impact, Emily has a two-year head start on her college education. As for the passion, she plans to continue following her grandmother/mentor's advice: "If it's something you love, go after it."
Emily began pursuing her dream of becoming an elementary school teacher the summer of her sophomore year when she enrolled in SJR State's dual enrollment program. After what she calls a little calculating, she soon realized that with hard work and dedication, she could be eligible to graduate with a high school diploma and an associate in arts degree at the end of her senior year.
"St. Johns has given me the chance to follow my dream in record time," Emily said. "I now can start working on my bachelor's degree right out of high school."
"I've always wanted to be an (elementary) teacher," Emily added. "That's the age in which you can help children craft the building blocks of life. That's when they evolve into who they are going to be. It's pretty special knowing that you can be a part of that."
SJR State instructor Ann Masters, Ph.D., said that Emily is an exceptional student. "I really felt that she tried to prepare herself well for her future students - not for just a classroom assignment, but because teaching well is important to her. Her dream is to teach," Masters said. "Students like Emily remind teacher-educators like me that we are passing a torch, and it's grand to see some p
assion, like Emily's, on the receiving end." Emily said she drew her inspiration to become a teacher from her grandmother, instructor Elizabeth Foster. "She's an incredible teacher," she said. "I've seen how much she has impacted kids' lives over the years. It's inspiring to see someone who has a passion for what she is doing."
Emily said the admiration is mutual. "My grandmother is proud of me," she said, adding that in addition to her academic responsibilities, she also works full time. And while her plans involve attending Flagler College in the fall and working on her baccalaureate degree, her immediate plans include attending two graduation ceremonies, with her grandmother (from Massachusetts) in the audience.
Middleburg resident proves it's never too late for college

When Joe Sheppard was in high school, he thought nursing would be a good career to pursue. "I like helping people, but I didn't take the step," Joe said. "Besides, I didn't see any men in nursing."
Throughout the years, Joe found ways to help people, either by volunteering or through his church; however, the idea of nursing never truly left him. After working for 20 years in sales, real estate and carpentry, Joe thought, "There's got to be something out there for me."
At the age of 38, and after testing the waters with courses in CPR and medical terminology, Joe decided to take the leap by enrolling in the nursing program at St. Johns River State College. He graduated from SJR State in 2006 and never looked back.
Now at the age of 45, Joe said he doesn't regret delaying his nursing career. "I am able to relate to my patients better and in a lot of different ways. I think it's because of my diverse occupational background," he said. "I find that I'm more in-tune."
Along the way, Joe discovered there's more to nursing than the physical and medical tasks. "It's assisting in the little things that make all the difference in the world. The little things count, too," he said. "Sometimes the best medicine is holding someone's hand and talking to them." As far as the male nurse stereotype, Joe said there are more male nurses now than ever.
Joe currently cares for critically-ill patients at Kindred Hospital - North Florida in Green Cove Springs. He also works part time at the Mental Health Center of Jacksonville.
Joe said his future includes working on his bachelor's degree and possibly a master's degree. "The human body is a very complex machine. I learn something new every day," he said. "You never stop learning."