JANUARY 2021
Gov. DeSantis appoints W. J. "Jud" Sapp to SJR State Board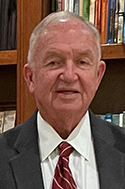 St. Johns River State College welcomes its newest member of the District Board of Trustees.

W. J. "Jud" Sapp, Jr. was recently appointed by Governor Ron DeSantis. He is appointed for a term beginning December 23, 2020 and ending May 31, 2022.

Sapp is the owner of W. J. Sapp & Son, Inc., which was founded in 1970. He is a State of Florida certified general contractor specializing in railroad contracting throughout the eastern United States and a Florida real estate broker. Sapp is a United States Navy Veteran and a graduate of Lake City Junior College and Florida State University. He has also served on the St. Johns Country Day School Board in Orange Park.

SJR State President Joe Pickens, J.D., said the College welcomes its newest representative and honors the service of outgoing Trustees Sam Garrison and Leslie Dougher. "We are honored to welcome this dedicated and talented individual to our Board," Pickens said. "Mr. Sapp's impressive background, professional successes and community connections will be a positive contribution to our students, the College and its future growth."

Pickens said the College was fortunate to have had the outstanding foresight and direction of Board members Garrison and Dougher, whose leadership made a positive impact on the College.

During the January Board meeting, the Trustees appointed Wendell Davis as chair and the Reverend Bobby Crum as vice chair. Currently serving on the District Board of Trustees is Jan Conrad, Brian Keith and James Reid.

St. Johns River State College operates full-service campuses in Clay, Putnam and St. Johns counties and is accredited by the Commission on Colleges of the Southern Association of Colleges and Schools to award associate and baccalaureate degrees. Contact the Commission on Colleges at 1866 Southern Lane, Decatur, Georgia 30033-4097 or call 404-679-4500 for questions about the accreditation of St. Johns River State College.


PHOTO CAPTION:
W. J. "Jud" Sapp, Jr.




MEDIA CONTACT:
Susan Kessler
Director of Public Relations and Publications
(386) 312-4020