MARCH 20, 2023
SJR State students named to 2023 All-Florida Academic Team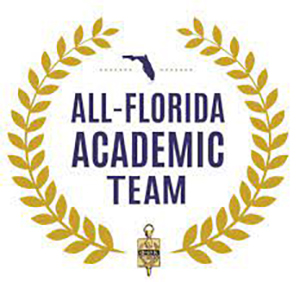 St. Johns River State College students Riley Bass, Anthony Chiado, Paola Diaz, and Sinead Nordman have been named to the Florida College System's 2023 All-Florida Academic Team. The honor recognizes students for academic achievement, leadership and service to the community. Students are nominated by their respective colleges to the All-USA Academic Team competition sponsored by the Phi Theta Kappa International Honor Society.

Students will be recognized and receive a special medallion at an awards ceremony in March hosted by the Florida Department of Education in conjunction with the Florida College System Foundation.

Each year, Phi Theta Kappa Honor Society recognizes the academic achievements of this select group of two-year college students and provides each member of the team with opportunities for individual growth and development through honors, leadership, service and fellowship programs.

To join PTK, members must have completed 12 credit hours at a two-year institution and hold a 3.5 grade point average. The organization also promotes scholarships. To learn more, visit www.ptk.org.

MEDIA CONTACTS:
Michelle Sjogren
Executive Director of Communications
386-312-4034

Susan Kessler
Director of Public Relations and Marketing
(386) 312-4021