PUBLIC RELATIONS AND PUBLICATIONS
The Office of Public Relations and Publications is responsible for the production of the College's marketing and external communication needs.

Our team strives daily to position the institution as the preferred college in Northeast Florida and aids the College in its mission by:

· Preserving the institution's credibility
· Creating and maintaining a favorable public image
· Ensuring visibility of the College and its programs, and
· Preserving and promoting the College's brand

CREATIVE SERVICES:

Press Releases/Photography - Our team creates and distributes relevant news releases and photos, collaborates with newspapers on feature stories, and serves as a reliable source for the local media.

Social Media - Our team implements a strategic use of Facebook and Instagram regarding SJR State topics.

Advertising/Marketing - Our team researches mediums, develops a message and visual, and schedules placement of ads, all to maximize target audience visibility.

Publications - Our team is responsible for the College catalog, recruiting and promotional materials, brochures and flyers. A work order and a minimum of two weeks' notice is required to request the production of printed materials.

Website - Our team is responsible for the creation and maintenance of the official College website https://SJRstate.edu

Community Outreach - In conjunction with multiple departments, our team utilizes various community events to extend the College's message, services and programs.

Internal Communications – Public Relations is responsible for "Happy Happenings," a weekly email delivered to students and employees. The email includes College events and activities, club information, important deadlines and more. Please contact to add a College event to the weekly email.
Logos/Resources
College logos for in-house printing and Web use only. Do not redesign logos.
(Click on image below to access a usable logo.)
Viking logos
(Click on image below to access a usable logo.)


Email signatures - Contact PR for instructions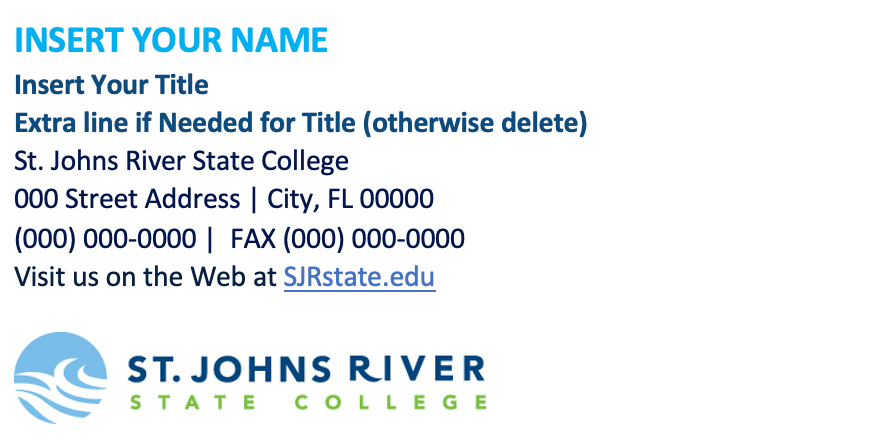 PowerPoint templates

Business Card order form - TBA

Letterhead available in Microsoft Word upon request
Project Requests

The project request system aids in the office's ability to work efficiently and serve the College as a whole.

PUBLICATIONS Request Form* - For brochures, flyers, Web page requests. Complete and send to Tammy Lane in the Publications Department.

PUBLIC RELATIONS Request Form - For social media, press release and/or publicity requests.

*Please allow a minimum notice of two-weeks for all reprints and four-weeks for all new print projects. Some projects may require additional time for assemble, ordering paper, processing quotes, and out-of-house printing.
Staff Directory

Susan Kessler
Director of Public Relations and Publications

386-312-4020

Penny Powell
Communications Specialist

386-312-4020

Bailey Hersey
Administrative Assistant

386-312-4023

Tammy Lane
Publications and Web Development Coordinator

386-312-4025

Laura Fezie
Publications Specialist

386-312-4084

Derek Hembd
Web Specialist

386-312-4135

Paula Harris
Publications Assistant

386-312-4026

Caroline Tingle
Vice President for Development and External Affairs

386-312-4100