MEET DONNIE.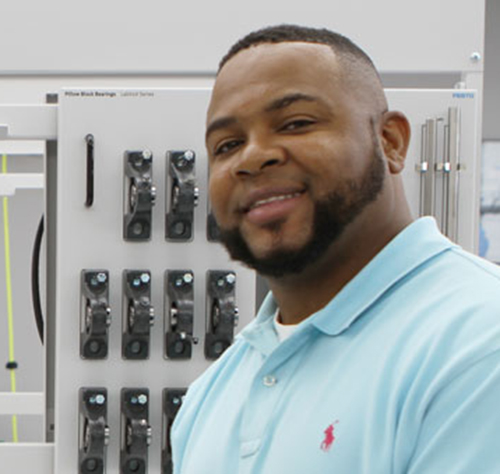 WHAT INSPIRED YOU TO ENROLL IN THE ENGINEERING PROGRAM?
I always wanted to make a difference in my life and change the routine of just going to work and not having something to fall back on, but I didn't know what I should do.

One day while vacationing with my family, a few of my co-workers at Georgia-Pacific sent a group text about a manufacturing/engineering program that GP was promoting. I said to myself, "That's it!" and I signed up. 

I was skeptical about it at first. I hadn't taken any courses since graduating from high school in 1997. I was scared and curious at the same time. I questioned myself about whether I could do this. A lot of negative thoughts went through my mind, but with the motivation from the guys, I went ahead with it and was determined to finish with a degree. I'm glad I did!

I recently received a college credit certificate as an Engineering Technology Support Specialist and am knocking on the door to my A.S. degree.
"The future and the pace that technology is moving inspired me to make this move to be skilled, knowledgeable and prepared to succeed in the 21st century."

With this program, I saw hope and stability. Don't get me wrong! I have a very nice lifestyle with the job that I have, but I always like a backup plan that's equivalent or better than my current state.

My wife and kids also inspired me to try something different as I lay a secure foundation for them to build on and aim to be a good be a role model for my children. My dream is to have my wife and children watch me walk across that stage to receive my degree. That would be priceless! Overall, all that I do is for them.

WHAT DO YOU LIKE MOST ABOUT YOUR TRAINING?
What I like most about the training is the hands-on part and learning how equipment actually works and how programmed logic is used to make things happen. This is very helpful when it comes to my daily work environment. I see process engineers implementing logic to control different things, and now I understand what they are doing and the language they are using to make the equipment operate properly. I am learning to understand schematics on how to wire a motor, using transformers, overload relays — among other fun things — and setting the motor up to actually start up and run. It's awesome!

WHY DO YOU THINK SKILLS TRAINING IS IMPORTANT TO THE FUTURE OF THE NEXT GENERATION?
Skills training would be extremely important to the next generation. Technology is growing at a rapid pace and will continue to evolve. There are jobs that are here today that didn't exist a year ago. And the jobs that will be created within the next five years, people aren't prepared for. It is important for the next generation to be skilled in computers or programming, especially in the manufacturing field.  

The thing about this program is that it provides you with the skills and knowledge necessary to program, monitor, repair and operate the equipment.

I would encourage all future generations to get involved in any type of robotics or computer programming courses. Maybe someone reading this could be the next inventor or programmer for the next AI (artificial intelligence).

WHAT HAVE YOU LEARNED ABOUT YOURSELF DURING THIS PROGRAM?
"I have learned that discipline — not desire — determines your destiny."

When I have homework or a midterm/final to prepare for, I can't do a lot of things that I would like to do. Prioritizing what needs to be done versus what I could/should be doing at that particular time is hard. Considering that I have a busy 11-month-old baby girl who doesn't care when Daddy has homework, I have to make sure I have enough discipline to know when I can do what I want to do (homework, work, family).

I am also learning that it is more to me than what I realized from when I first started this program. I have a greater understanding of what it really means to be a father, husband, student, friend, and most of all, a man on a mission to break generational curses.


INTERESTED IN ENGINEERING?
Classes begin in August.
https://www.sjrstate.edu/engineering.html