MEET ALFRED.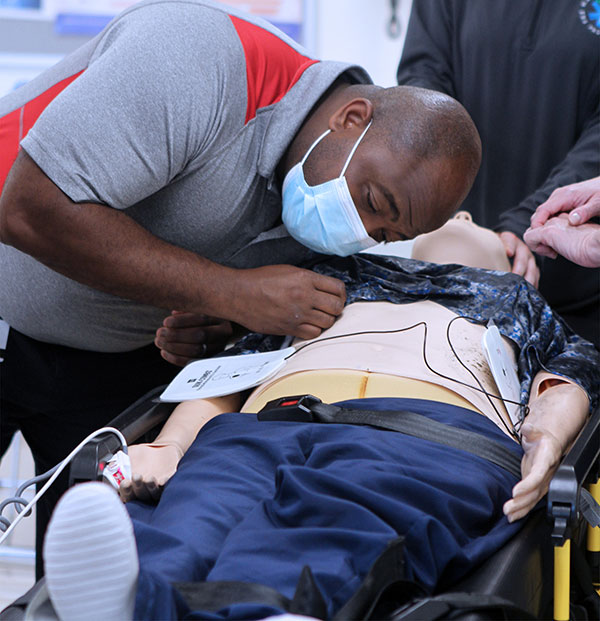 ALFRED, WHAT INSPIRED YOUR INTEREST IN THE PARAMEDIC FIELD?
I have been interested in emergency medicine for quite a few years. My first job in the Army was a combat medic or a 68W back in 2003. The challenging nature of the work is what appeals to me. Working under pressure with the abilities and skill sets to turn a bad situation into a better one is rewarding and exciting.

WHY DID YOU SELECT SJR STATE FOR YOUR TRAINING?
I spoke with Mr. Webb in 2015 during my time with St. Vincent's Ambulance Service. We spoke for about 45 minutes and he really sold me on the program. He spoke about the program with a great deal of conviction. I checked into a few other programs, but they didn't feel right to me or for me. I also spoke with several graduates from this program and every one of them said I wouldn't regret going through the course. After years of setbacks, I was finally able to apply, and I wasted no time doing so.

WHAT DID YOU ENJOY MOST ABOUT YOUR TRAINING?
I've truly enjoyed learning the material and being able to apply that information in real time. During the beginning of class, I had no idea what those squiggle lines on the monitor meant, let alone what to do if I saw them. Now I can tell you one of those lines is polymorphic ventricular tachycardia. As we've progressed, more of the material has begun to "click," and that part is exciting.

WHAT HAS BEEN YOUR BIGGEST CHALLENGE DURING THE PROGRAM?
Time management. You must stay on top of the reading, workbook, lectures, labs, clinicals.

WHAT ARE YOUR PLANS NOW THAT YOU HAVE GRADUATED?
My plans are to continue working in the EMS field and eventually find my way into nursing.

WHAT IS YOUR ADVICE TO OTHERS WHO MAY BE CONSIDERING ENROLLING IN THIS PROGRAM?
I have three pieces of advice prior to attending paramedic school...

1. Talk to people in the field. Most people in EMS are very...direct. They will tell you the good, the bad and, of course, the ugly side of this profession. If you have the ability, schedule a ride-along with a fire department to get an idea of what you will do as a paramedic.

2. Prepare your family, significant other, offspring, and your pet because you will be M.I.A. for about a year. This course is time-consuming. Much is expected of you intellectually. Studying is required. You are also expected to attend clinicals at various hospitals, and you will ride with firefighters/paramedics in other counties. If you are working, make sure your schedule can accommodate the time necessary for the program. Oh, and we have class on Saturdays, too!

3. If you're still interested at this point, then go ahead and immerse yourself in all that is paramedicine. Listen to podcasts, watch YouTube, read articles, start becoming familiar with the names of the drugs that are used. If you find motivation from watching related TV shows, then do it. The amount of information out there is unlimited. Also, there are some dedicated people in this field who are more than willing to invite you into their world. They will gladly share their insights, knowledge, and passion for emergency medicine.

IS THERE ANY ADDITIONAL INFORMATION YOU'D LIKE TO SHARE?
If you've been on the fence, get off the fence. No, this is not easy, but 'you got this.' Many have completed paramedic school so there is no reason you can't, too. I wish you the best in this field of study or any other path you have chosen. Good luck, and Go Vikings!

Change lives, starting with your own!
Hundreds of emergency medical calls are processed every day, and EMTs and Paramedics are often the first to arrive at the emergency. Their skills can often mean the difference between life and death.

Learn more about the programs at
https://www.sjrstate.edu/paramedic.html and https://www.sjrstate.edu/emt.html
or call (904) 808-7465.
MEDIA CONTACT:
Susan Kessler
Director of Public Relations and Publications
(386) 312-4021