AUGUST 2020
MEET JEAN.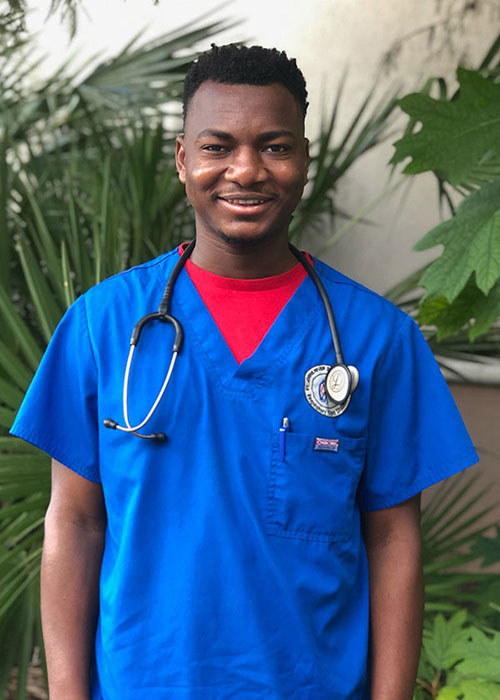 WHAT INSPIRED YOU TO BECOME A RESPIRATORY THERAPIST (RT)?
While I would enjoy being able to tell a story about tribulations and triumph or hardships that I faced and how it brought me to this career path, the truth is, I sought a career path that would offer job security. I wanted to ensure my future, something solid to fall back on, and this program provided me with such.

WHY DID YOU SELECT SJR STATE FOR YOUR TRAINING?
SJR State provided opportunities that other programs did not. The training program was attractive to me because it offered a small class size, a lab fully equipped with up-to-date materials, and an open-door policy with the professors.

"I sought a career path that would offer job security."

WHAT DO YOU LIKE MOST ABOUT THE RESPIRATORY CARE PROGRAM?
Each and every day, our professors help us to hone our skills and expand our knowledge to equip us with the essential skills for our future profession. So, what I like most about our program? It's the vigilance, drive and determination our professors have in advancing our knowledge so that we can be the best we can be.

WHAT HAS BEEN YOUR BIGGEST CHALLENGE IN THE PROGRAM?
The biggest challenge to date has been having to learn about drugs and their reactions. Learning about different medications and their effects is challenging. Our professors have been gracious and patient when it comes to spelling and learning to use these drugs in a fluid manner.

WHAT HAS BEEN THE MOST VALUABLE THING YOU HAVE LEARNED ABOUT YOURSELF AS A STUDENT DURING THIS TIME?
I learned that I need extra support and motivation to complete my work. Having to completely change my routine and work from home (this summer) has been difficult for me. The support that my family and classmates gave me provided the strength I needed to complete this semester successfully.

HOW HAS YOUR TRAINING BEST PREPARED YOU FOR THE WORKFORCE?
The labs we have completed have best prepared me for the workforce. I am a tactile learner, and being able to complete my education, hands-on, helps me to learn all the necessary tools I need to succeed.

WHAT ADVICE WOULD YOU GIVE TO THOSE CONSIDERING THE PROGRAM?
Make sure that if you are not completing your undergraduate/prerequisites at this school that you look into what will transfer and what you need in order to complete the program. Completing prerequisites prior to enrolling in the program is key.

WHEN WILL YOU COMPLETE THE PROGRAM, AND WHAT ARE YOUR PLANS AFTER GRADUATION?
When I complete the program in August 2021, I plan on applying to PA (physician assistant) schools while I enter into the workforce as an RT.

HOW OLD ARE YOU, AND WHERE DO YOU SEE YOURSELF IN 10 YEARS?
I am 25 years old. In 10 years, I see myself using skills compiled during my time here to advance my career as a PA.

MEDIA CONTACT:
Susan Kessler
Director of Public Relations and Publications
(386) 312-4021