MARCH 2021
MEET MALLORY.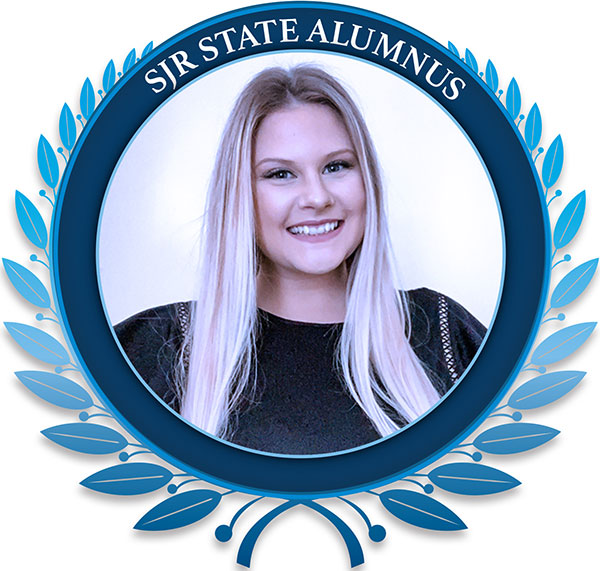 MALLORY, WHAT INSPIRED YOUR INTEREST IN HEALTH INFORMATION TECHNOLOGY (HIT)?
My interest in health information technology came from my love for the medical field. I knew I didn't want to be a "hands-on" professional, but I wanted to still care for patients. When I started researching SJR State, I saw the program for Health Information Technology. The HIT program description asked a simple question that drew me in, "Are you looking for a career in healthcare minus the bedside care?"

The more I learned about health information management (HIM) professionals and how they contribute to patient care intrigued me. The importance of accurate, quality documentation for patient care is vital for the patient's health, which made me want to get my associate of science degree in health information technology.

WHY DID YOU SELECT SJR STATE FOR THIS TRAINING?
Because of the program outcomes and it being accredited by the Commission on Accreditation for Health Informatics and Information Management Education (CAHIIM). These standards are very telling for SJR State's program curriculum and the program outcomes, including the student satisfaction.

TELL US ABOUT YOUR CURRENT JOB.
After graduation, I applied to Flagler Hospital. I saw there was a position open for a scanning technician. Since COVID-19 changed our internship to virtual, we got to do virtual tours of HIM departments at multiple hospitals in our local area. I thought this approach of virtually touring different healthcare organizations was beneficial in understanding how this career field has a variety of roles. The tour at Flagler Hospital was very detailed, and it really showed the process of their department. Having the virtual internship gave me the confidence to apply for the scanning technician position.

After two months of being the scanning technician, I had an opportunity for a coder I position. I applied for the position, and I was selected. I've been very grateful for my journey at Flagler Hospital, and the encouragement I receive from my colleagues and bosses has left a lasting impression on the start of my career. Hard work pays off, so keep pushing even when life gets tough!

WHAT DID YOU LIKE MOST ABOUT YOUR TRAINING AT SJR STATE?
The openness of discussing the important topics in the HIM field, expressing our opinions and knowledge, and the support from staff and classmates. The relationships I built with classmates and having that bond and support with them has been amazing - even out of school. We have remained close, still encourage each other, and communicate about our journey.

WHAT DID YOU FIND TO BE MOST CHALLENGING ABOUT THE HIT PROGRAM?
The most challenging part of the HIT program was definitely the coding classes. Starting the ICD-10-CM class was pretty overwhelming at first, but what I'm always told (even to this day) is to follow the guidelines. Knowing those guidelines will guide you with applying the codes.

WHAT ADVICE WOULD YOU GIVE TO THOSE CONTEMPLATING ENROLLING IN THIS PROGRAM?
Get ready to dive deep into the HIM field. This career field has many aspects to it, so don't be afraid of not knowing what exactly you want to do in this field. Most people think this field is just being a medical coder in a hospital. It's not! There are many job levels and work settings where this degree can take you. Research the types of roles, credentials, and job settings in health information technology.

WHAT ARE YOUR CAREER GOALS FOR FIVE TO 10 YEARS FROM NOW?
I am 28 years old. The last five years, I was a stay-at-home mother of three beautiful children. During my time staying home is when I pursued my career goals. I am very thankful I did.

My career goals for five to 10 years from now are pursing my bachelor's degree in health services administration and obtaining my RHIA and CCS credential. I have an interest in being a cancer registrar, but as of right now, being a coder l, my short-term goals are gaining my experience, credentials, and a higher education. I worked really hard in school, attended webinars, and networked with other HIM professionals. Listening to everyone's experience gave me insight to the reality after graduation and what my career would look like.

Personally, I want to work hard to become a health information management director one day. I continually want to grow and learn. This field pushes you to be very knowledgeable, so keep up the dedication to your career goals!



MEDIA CONTACT:
Susan Kessler
Director of Public Relations and Publications
(386) 312-4020