FEBRUARY 2020
MEET MIKE.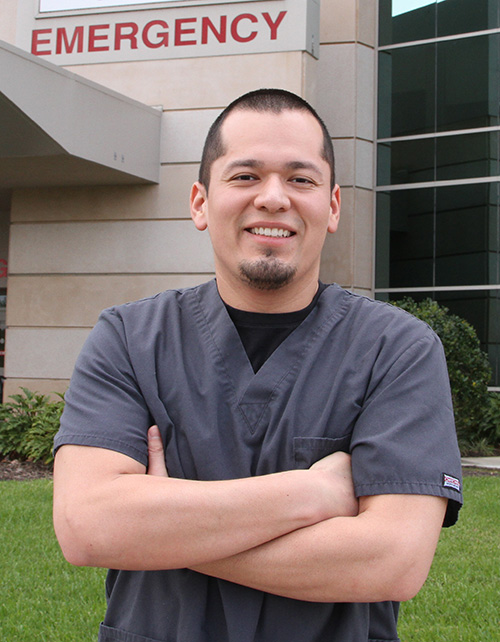 Mike is a graduate of SJR State's Radiologic Technology A.S. degree program. He is now employed at AdventHealth (formerly Florida Hospital).

While working with fire alarms and security systems in a hospital radiology center, Mike Hernandez quickly became intrigued by the technology and techniques used by the radiologic technicians. After researching online, he discovered SJR State's degree in radiologic technology. It didn't take long for Mike to make the choice to dive into a new career in the health care industry.

"There were other colleges that offered their own radiology programs, but SJR State was the best fit for me," he said.

Mike dedicated two years to studying, testing and completing over 40 hours of clinical internships before he graduated with his A.S. degree. As soon as he passed the state certification exam, he was hired by Florida Hospital Memorial Medical Center as a rad tech.

"It felt amazing to receive the offer," he said. "After all those days and nights preparing for exams, to finally be able to do what I've been working so hard for was the best feeling in the world. I finally get to realize my goal of meeting and helping people every day."

As a rad tech, Mike serves as the first line of defense in an emergency room. Rad techs are one of the first to meet patients in the ER and take diagnostic imaging such as x-rays and even MRI scanning. From chest x-rays for a suspicious cough to imaging for possible broken bones, Mike serves as the first step to diagnosing a problem. The x-rays he takes work up the chain of command and is vital to assessing a patient's condition and finding a solution.

Mike believes the best part of his job is simply being able to interact with patients.

"Sometimes, you meet people who are sick or hurt and I enjoy being able to ease their worries a little," he said. "It makes me feel good to help others feel better when they're experiencing a hard time in their lives."

Mike's confidence in his abilities stems from the quality training he received at SJR State. Not only are students required to intern at clinical sites, they are also trained with state-of-the-art radiologic technology in SJR State's premium lab buildings. With critical machines such portable x-rays, mobile fluoroscopy C-arms, and live x-rays that are used every day in the field, SJR State creates an atmosphere nearly identical to that of a real hospital or imaging center.

"During lab courses, I was able to take x-rays and phantoms to really get a feel for what I would be doing once I crossed over into my full-time career," Mike said.

He also praised the efficiency of SJR State instructors such as director of the radiologic technology program Ingrid Wright. "She had experience in the industry as well as experience as a teacher, which made her an excellent director," he said. "When she explained anything, she did so in a way that everyone could understand, whether it was about machinery, how to read an x-ray image or even how to take your state exam."

"I'm grateful for the education SJR State provided me," he said. "It gave me the opportunity to work at a job I really love."


PHOTO CAPTION:
Mike is a graduate of SJR State's Radiologic Technology A.S. degree program. He is now employed at AdventHealth (formerly Florida Hospital).




MEDIA CONTACT:
Susan Kessler
Director of Public Relations and Publications
(386) 312-4021