SJR State Student Spotlight - John Murrow
MEET JOHN.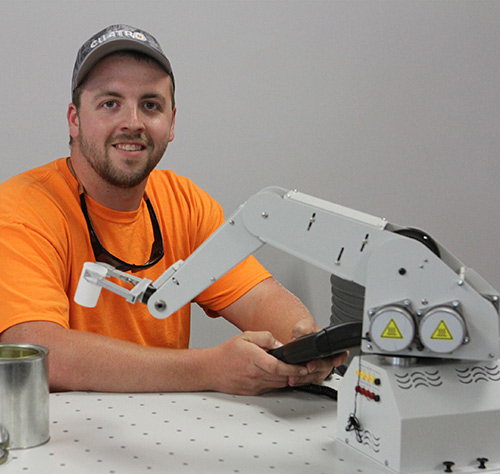 By Penny Powell
John Murrow, 24, once thought he might become a mechanic, but his path shifted and it led him to employment at Georgia-Pacific and enrollment in the engineering program at St. Johns River State College (SJR State). Murrow has wholeheartedly embraced this shift, since he believes that life's plans often change for good reason.
"I've always been mechanically-minded; I like putting things together and taking things apart," said Murrow, whose grandfathers were millwrights and whose father served as a mechanic in the military. "I didn't really see myself going to college," Murrow continued, "But once this program opened up, I knew that was what I wanted to do. I mean, you get to play with robots and stuff like that; I was thinking that would be awesome to do, and I figured if I could get into this program, I could be a step ahead of the game."
Formerly a fifth hand on the mill's kraft paper machines, Murrow recently began working as a technician on the tissue paper machines. He hopes to become a master technician or engineer one day. Stating that "jobs just aren't the same anymore" due to technology advancement, this husband and father of two has made it his mission to continue his education to best prepare himself for changes in manufacturing and, in turn, establish a solid foundation for the future of his children.
While looking forward, Murrow also spent some time looking back at the conversation he initially had with his then GP supervisor about enrolling in SJR State's latest program in engineering. "He was thinking about doing it, and he thought I'd be interested, too," said Murrow.
"He told me, 'You'll study electricity and operate motors and learn how to read electric circuits, circuit boards...' I was thinking, "Well, this is where manufacturing is heading, and now that companies are leaning toward an ownership-based work system, I figured what's better for my future than learning more about how the equipment works. It all helps you out in the long run," Murrow said.
Since manual labor can place a great deal of wear and tear on the body over time, Murrow plans to protect his body and keep sharpening his mind; therefore, an engineering education, including fun hands-on learning, is the way to go for him. To date, Murrow has completed his first year in the program and is currently working on his Associate in Science degree in engineering at SJR State.
Because Murrow works fulltime and attends classes part time, it will take him longer to graduate, but he is happy knowing that no matter his pace, each class is moving him a step closer to his degree and a more secure future. That's why his advice for the younger generation is simply, "Don't quit!"
MEDIA CONTACT:
Susan Kessler
Director of Public Relations and Publications
(386) 312-4021