STRATEGIC COMMUNICATIONS
The mission of the Strategic Communications Department is to celebrate and promote the St. Johns River State College story, encourage personal and professional growth, and build connections between the College and communities served.
PUBLIC RELATIONS
We write and distribute news releases to external news organizations, arrange media interviews and news conferences, and coordinate photography. If you are a member of the media and need assistance, please contact Michelle Sjogren at 386-346-0214 or email or .
DIGITAL STRATEGIES
We provide leadership and support for all digital initiatives. These include web updates and maintenance, the college calendar and digital marketing and analytics.
INTERNAL COMMUNICATIONS
By collaborating with college faculty and staff, we strive to deliver accurate and consistent college news/events in a timely fashion.
MARKETING
We create marketing strategies that attract prospective students and increase awareness of college successes and the program offerings at SJR State using a variety of methods, including branding, promotional items, events and paid advertising.
SJR STATE LOGOS
If you need to download logos, we have a variety of formats and styles to choose from below.
BRAND GUIDE
If you would like to learn more about our college brand, please check out the college brand guide.
SOCIAL MEDIA
We promote engagement on our social media channels through encouraging college personnel, students and the community to engage with content and planning relevant social media messaging.
QUESTIONS?
(386) 312-4034

Logos/Resources
College logos for in-house printing and Web use only. Do not redesign logos.
(Click on image below to access a usable logo.)
Viking logos
(Click on image below to access a usable logo.)


Email signatures - Contact PR for instructions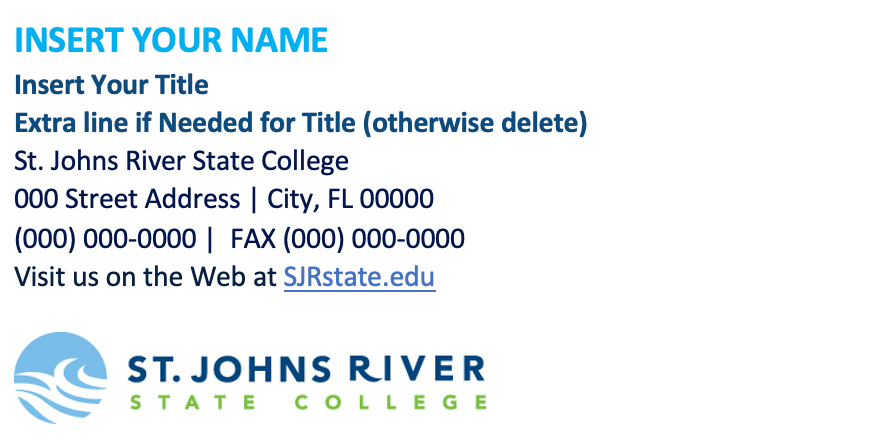 ZOOM Metting Backgrounds
(Click on image below to access a larger file.)

PowerPoint Templates

Staff Directory
Michelle Sjogren
Executive Director of Strategic Communications

386-312-4034

Susan Kessler
Director of Public Relations and Marketing

386-312-4021

Tammy Lane
Web/Digital Strategies Manager

386-312-4025

Bobby Dye
Digital Marketing Manager

904-276-6892

Laura Fezie
Creative Services Coordinator

386-312-4084

Derek Hembd
Web Coordinator

386-312-4135

Mikki Johns
Recruitment & Orientation Coordinator

386-312-4033

Alyssa Alessandria
Social Media Specialist

904-276-6883

Paula Harris
Strategic Communications Assistant

386-312-4026