TREE CAMPUS
Coontie
Zamia floridana / Zamia pumila

This native of Florida is also known erroneously as Zamia pumila (Fig. 1). The feather-like, light green, leathery foliage of Coontie emerges from a large underground storage root in the early years before a trunk develops. Providing a tropical landscape effect, Coontie's unique growth habit is ideally suited for use as a specimen or container planting. It looks particularly attractive when plants of differing sizes are planted together to form a clumping, specimen-like effect. Planted on 3- to 5-foot centers for a massing effect, it forms a 3-foot-tall, medium-green ground cover. Coontie are rarely used in this manner because of the high cost of plants, but it is well worth the effort. This plant should be used more in the landscape.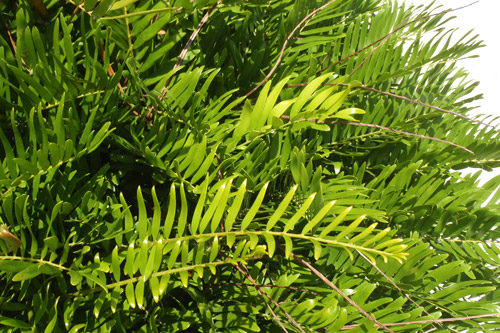 Visit our Tree Campus homepage for more information.
Tree Campus information provided with permission of the Environmental Horticulture Department, UF/IFAS Extension, Publication #FPS-617,, one of a series. Original publication date October 1999. Reviewed February 2014. For more information visit the EDIS website at http://edis.ifas.ufl.edu.