TREE CAMPUS
Sago Palm
Cycas revoluta

This evergreen cycad is native to the tropical islands of southern Japan, but it grows well in the subtropics of the United States, particularly in Florida, California, Georgia, and Puerto Rico. Sago Palm grows well in full sun or partial shade but exhibits larger leaves in more shaded situations. Slow growing, the sago palm can reach heights of up to 15 feet in 50 years. Leaves are pinnately compound, 4 to 5 feet long, and up to 9 inches wide. The dark-green, stiff leaflets have a linear shape with a shiny upper surface. They are approximately 4 inches long, have revolute or curled under margins, and an acuminate or pointed tip. The trunk of the sago palm is dark brown and thick, and appears shaggy. Plants are either male or female and the reproductive structures are found in the center of the plant. The male organ resembles a large yellow cone that reaches lengths of up to 2 feet. The female organ resembles a yellow furry globe, and it houses many bright orange seeds that are 2 inches in diameter.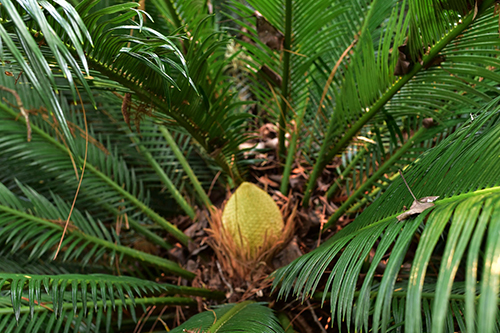 Visit our Tree Campus homepage for more information.

Tree Campus information provided with permission of the Environmental Horticulture Department, UF/IFAS Extension, Publication #FOR 254, one of a series. Original publication date May 2010. Reviewed April 2016. For more information visit the EDIS website at http://edis.ifas.ufl.edu.