TREE CAMPUS
Southern Magnolia
Magnolia grandiflora

The Southern Magnolia or Bull Bay is one of the best-known trees in the State. No other tree in our forests exceeds it in the combined beauty of the leaves and the flowers. Occurring naturally in rich hammocks and wetlands, the Southern Magnolia has been widely cultivated for its ornamental value. In its natural habitat, it attains heights generally 65-100 feet and trunk diameters of up to three feet and more. The dense pyramidal crown is made up of numerous small spreading branches and branchlets. It ranges over the state as far south as DeSoto County.

The bark is smooth and gray. The alternate leaves are evergreen, leathery, elliptical, dark green and shiny above, rusty or greenish beneath, and mostly from four to eight inches long and two to four inches wide, with prominent midribs. The leaves remain on the tree over the winter.

Large handsome flowers appear during the summer. They are very attractive with their large, showy, creamy-white petals and their strong, pleasing fragrance. The "sweet magnolia" of the South well deserves the place given it in story and song.

The fruit consists of a rounded or oval cone-like structure from two to four inches long, made up of many segments, each with a single bright red seed that dangles from a thin fiber when mature.

The cream-colored wood is moderately heavy and hard and is used for ornamental purposes and sometimes for furniture.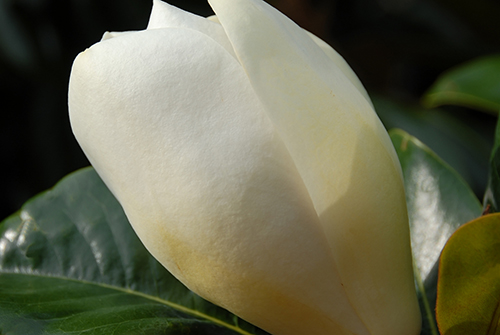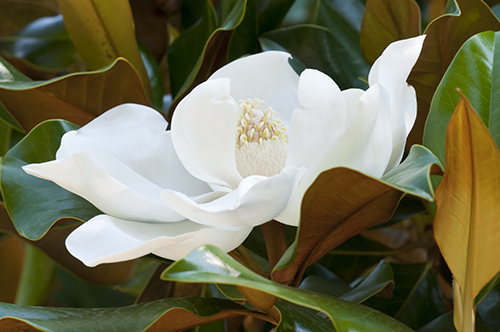 Visit our Tree Campus homepage for more information.

Tree information provided with permission of the Florida Department of Agriculture and Consumer Services for more information visit https://www.fdacs.gov/.