TREE CAMPUS
Yaupon Holly
Ilex vomitoria

This upright, spreading small evergreen tree or large shrub, capable of reaching 15 to 25 feet in height with a similar spread, has small, grey-green, leathery leaves densely arranged along smooth, stiff, light grey branches. Plants in the landscape require about 10-years to develop a distinct vase-shape. Sometimes clipped into a tight hedge, Yaupon Holly is ideal for training into a small tree with lower branches removed to reveal the interestingly-contorted multiple trunks. It can also be used for topiaries, espaliers, specimens, screens, or barriers. The non-showy male and female flowers appear on separate plants and are followed on the female plants by the production of brilliant red berries (yellow on some cultivars) which are quite attractive to wildlife. The flowers attract bees for several weeks. Purchase plants with berries on them (females) if you want a berry-producing plant, or buy trees which were propagated from cuttings of female plants.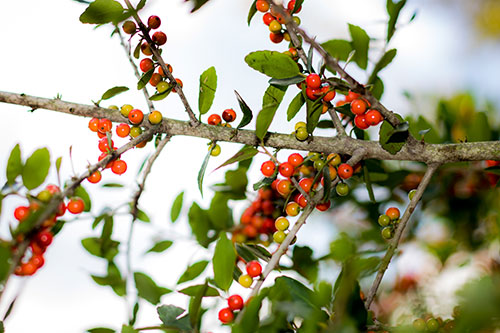 Visit our Tree Campus homepage for more information.

Yaupon Holly information provided with permission of the Environmental Horticulture Department, UF/IFAS Extension, Publication #ENH470, one of a series. Original publication date November 1993. Revised December 2006. Reviewed February 2014. For more information visit the EDIS website at http://edis.ifas.ufl.edu.