MARCH 8, 2023
Healthcare instructors say technology, confidence is key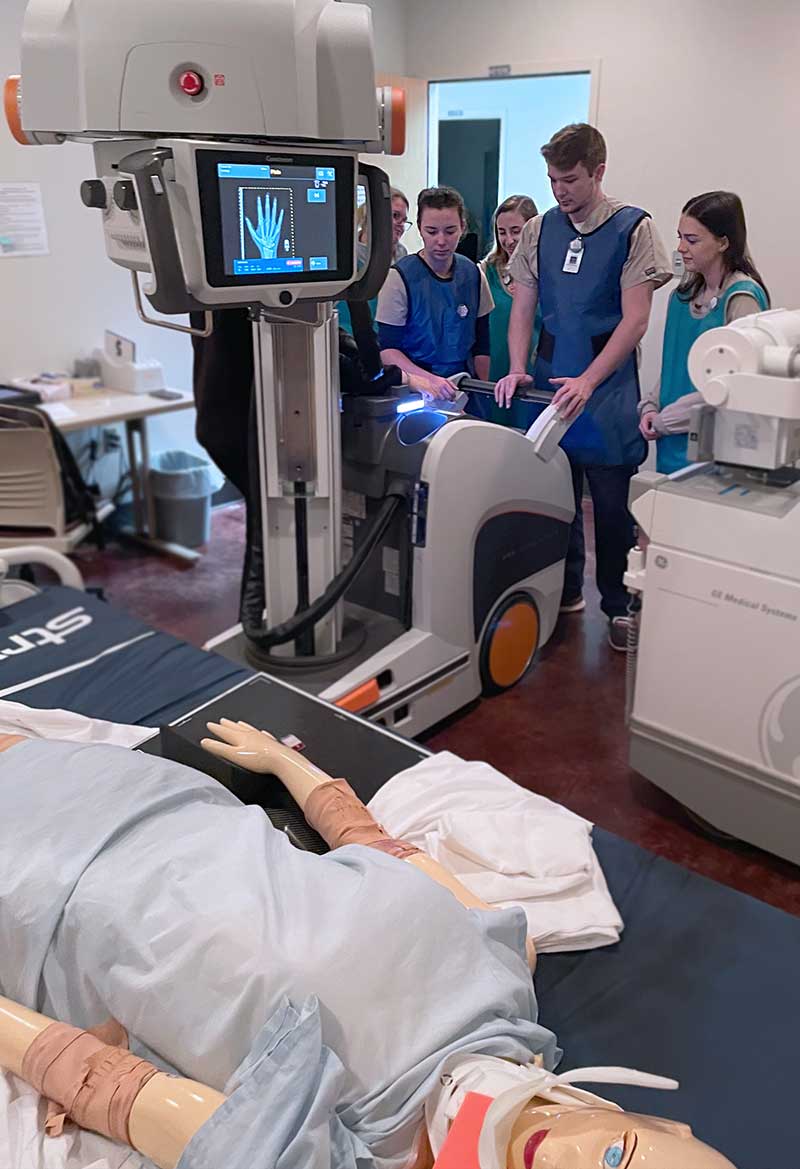 When preparing students for the challenging field of healthcare, St. Johns River State College instructors agree that confidence is the one quality capable of setting students apart. Confidence gained from experience is what Holly Coulliette, Dean of Allied Health, calls the "competitive edge."

According to Coulliette, the key to confidence is mastering the industry's technology in the classroom before facing the real-world scenarios of hospitals, emergency rooms and health care centers. Thanks to state and federal funds allocated to strengthen career and technical programs, SJR State's Radiologic Technology and Respiratory Care programs stay on the cutting edge with the arrival of the latest mobile digital imaging and ventilator systems.

"Students feel a tremendous advantage walking into their clinicals prepared to operate the latest equipment," Coulliette said. "Keeping our labs current with technology helps to give our students that confidence when precision and precious seconds play a vital role in a patient's outcome."

According to Christy Mauel, SJR State's Director of Radiologic Technology, the mobile X-ray system will teach students how to bring imaging to patients who are too sick or vulnerable to travel through the hospital to the imaging department. The digital equipment produces an immediate X-ray image which is essential during trauma and surgical procedures.

"It takes a considerable amount of time for students to reach an appropriate level of comfort and skill to use complex equipment in a hospital environment." Mauel said. "Our students have the opportunity to practice using this equipment in the lab before entering the clinical field, which will improve their level of competency and confidence in the hospital environment."

SJR State student Sean Hatton, 30, a former forester preparing for his next career in radiology, said the hands-on experience he receives in the labs before interacting with actual patients prepares him to confidently care for those patients. "We spend a lot of hours in the clinical settings," he said. "Our time practicing in the lab allows us to arrive experienced and ready to handle the equipment, operate the technology and position real patients correctly." Jennifer Bass, SJR State's Director of Respiratory Care, said the labs on campus are designed to simulate hospitals and are equipped with the latest lifesaving ventilators designed to enhance patient comfort and safety during critical illness.

The simulation rooms and manikins provide instructors with the opportunity to create "real-life" situations for students to learn. The instructors can vary the situation to create very complex "patients" that students may not actually see in the clinical setting but may eventually face in the real world.

Practicing with the equipment in the lab also helps students avoid mistakes with real patients. "It is rewarding as an instructor to see students experience the moment when they solve the problem and 'save' the patient," Bass said. "You can't put a price on what experience will bring. It's invaluable."

Apply now to SJR State - https://www.sjrstate.edu/ - and begin your pre-requisites and/or general education courses on any campus or online.

Since 1958, St. Johns River State College has built a solid reputation as a full-service college dedicated to meeting the educational and workforce training needs of its Northeast Florida district. With campuses in Orange Park, Palatka and St. Augustine, SJR State is truly the community's college, enriching a diverse population of students ranging in age from 16 to 60 and beyond. SJR State offers the Associate in Arts (transfer) degree, three bachelor's degrees and more than 30 Associate in Science degrees and career certificates.
MEDIA CONTACTS:
Michelle Sjogren
Executive Director of Communications
386-312-4034

Susan Kessler
Director of Public Relations and Marketing
(386) 312-4021