ADULT EDUCATION/GED SPOTLIGHT
From GED to Degree at SJR State College-Katelyn Scott
MEET KATELYN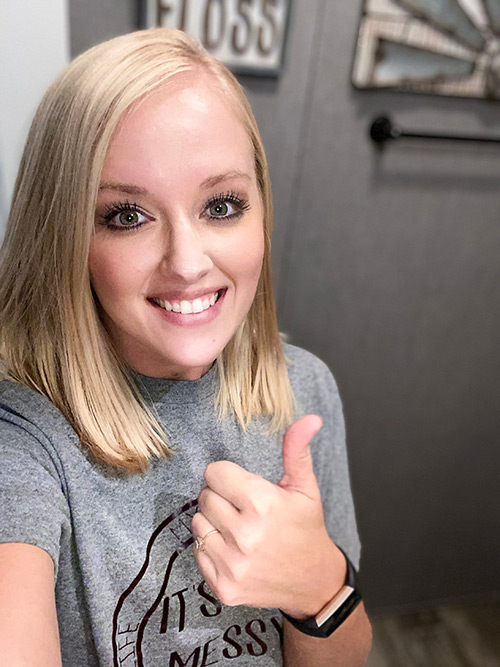 Katelyn Scott is St. Johns River State College's student spotlight of the month. This 27-year-old mother of five shares her message of perseverance and how she overcame multiple obstacles to gain control of her future and set an example for her children. She recently earned her GED through SJR State's Adult Education program, and is now prepared to move forward with college courses.

KATELYN, WHAT INSPIRED YOU TO ENROLL IN SJR STATE'S ADULT ED PROGRAM?
Due to health issues, I became homeschooled my junior year of high school. I graduated through a private school program that wasn't accredited. I wanted to further my education and couldn't do so with the diploma I had, so I chose to take SJR State's Adult Ed courses to refresh myself on those core subjects. I have been out of school since 2010 and was worried I wouldn't do as well if I just challenged myself with the GED test.

PLEASE SHARE YOUR EXPERIENCES AND CHALLENGES
I liked how the Internet program allowed me to work at my own pace. I am a mother of five children - one stepdaughter, three adopted and one biological - and sometimes my life can be a bit chaotic. So any time I could squeeze in a lesson or two, I would do so.

I also enjoyed listening to other students' stories prior to class. The fact that the class was full of students of all ages, working toward the same goal, was very rewarding.

When the COVID-19 pandemic hit, we went from studying/practice testing in the classroom at the College to distance learning at home. I liked studying at the school much more than at home. At school, there were no distractions, and though my teacher, Mrs. Connor, was just a phone call away and quick to assist, having her right there to walk me through the process of figuring out a difficult equation was much more beneficial.

WHAT WAS YOUR BIGGEST TAKEAWAY FROM YOUR ADULT ED EXPERIENCE?
I CAN do this! It's never too late to go back to school. Being a busy parent is no excuse. The kids were actually my biggest supporters and encouraged me the entire time. All of my kids, though young (ages 2, 3, 4, 6 and 9), are looking forward to their futures and dreaming bigger than before. They will go to college - just like mommy!

WHAT ADVICE WOULD YOU GIVE TO THOSE CONSIDERING ENROLLING IN THE ADULT ED PROGRAM?
DO IT! Do it now. Whatever it is that's holding you back is not more important than your future. Also, don't fall victim of your circumstances. I am a young mother and grew up in a dysfunctional home. Mom worked her tail off to provide (she was incredible), but Dad struggled with addiction. I enrolled in the Adult Ed program; I did it. You certainly can, too.

ACADEMICALLY, WHAT'S NEXT FOR YOU?
I want to become a nurse. It has always been a goal of mine; however, becoming a young mom of many, I didn't think it was within my grasp, but I am determined to make it happen.

WHERE DO YOU SEE YOURSELF FIVE YEARS FROM NOW?
I want to work as a neonatal intensive care unit (NICU) nurse, become debt free, and go on more adventures with my family.

The nurses in the NICU at North Florida Regional Medical Center changed my whole life a few years ago. My wonderful adopted children were born addicted and placed into the foster care system. (I wanted to adopt children who were born into addiction, because I was born into addiction.)

One of my children took longer to wean than the others and spent almost three months in the NICU. The nurses were incredible. They loved him through the toughest part of his life and were so supportive of him and me through the entire NICU stay. ANY ADDITIONAL COMMENTS?
SJR State's Adult Ed program opened my eyes to my future possibilities. Initially, I was embarrassed - 27 years old getting my GED? It was not where I saw myself. It was a humbling experience, and I'll forever be grateful for the experience and guidance. I have control of my future. It's time to achieve more goals.

MEDIA CONTACT:
Susan Kessler
Director of Public Relations and Publications
(386) 312-4020