FEBRUARY 2020
MEET TANNER.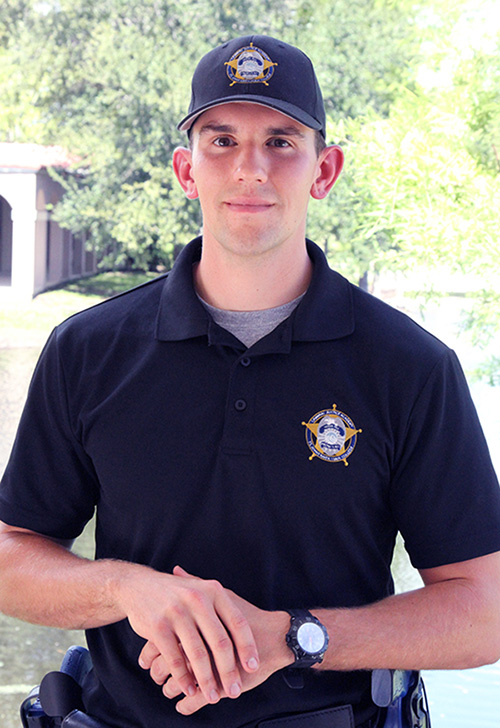 Tanner is a graduate of SJR State's Florida Law Enforcement Academy. He is now deputy sheriff with the St. Johns County Sheriff's Office.

TANNER, WHAT INSPIRED YOU TO WANT TO BECOME A LAW ENFORCEMENT OFFICER? I was inspired by my Heavenly Father to pursue a career in law enforcement. I felt that I was called to (the field) according to Romans 13:1-7. I was called to be a servant unto the Lord and enforce the laws and regulations that God has helped put in place to draw a line between order and chaos. I also draw my inspiration from Deuteronomy 1:16-17 and plan to treat everyone equally and fairly no matter their status.

WHY DID YOU SELECT SJR STATE FOR YOUR TRAINING? The College has an incredible reputation for preparing its cadets to a higher level of readiness. The level of experience and knowledge that the instructors have, as well as the location, were both significant influencers in my selection.

WHAT DID YOU ENJOY MOST ABOUT YOUR TRAINING? I have personally enjoyed the instructors' incredible level of experience. Not only do most of the instructors have 30+ years of experience in law enforcement, but they also bring in specialty instructors for specific areas to give us the most information possible.

WHAT WAS ONE OF YOUR BIGGEST CHALLENGES? The biggest challenge I had leading up to the program was getting into shape. I have always been athletic. I've played sports and worked out most of my life, but I wanted to be in the best shape I have ever been in. I took the time to focus on eating right and making the gym a priority. It wasn't always easy saying no to some of my favorite foods or activities, but, in the end, it was all worth it.

WHAT IS YOUR ADVICE TO OTHERS WHO MAY BE CONSIDERING ENROLLING? Get into better physical shape before you get there. You owe it to yourself, your family, your community, your future agency and your classmates to prepare appropriately before day one. I promise that losing a few pounds and running more often won't hurt you. I would also tell them that entering the Academy can be one of the best decisions they'll ever make.


PHOTO CAPTION:
Tanner is a graduate of SJR State's Florida Law Enforcement Academy.




MEDIA CONTACT:
Susan Kessler
Director of Public Relations and Publications
(386) 312-4020